Trump toured the plant during his 16th trip to Ohio. Governor DeWine ran a COVID-19 test as a protocol before planning to meet Trump, tested positive and did not attend.
CLYDE, Ohio – President Donald Trump visited the Clyde hot tub facility on his first visit to Ohio since the pandemic began and his 16th trip to the state.
The president tweeted just before 1pm that he had "just left for the Great State of Ohio!" and shared a video.
Governor Mike DeWine shared his own tweet just before the president's tweet. DeWine said he tested positive for COVID-19 after taking the test as part of the standard protocol to greet the president on the tarmac in Cleveland. He is symptom-free and will be quarantined at home for the next 14 days.
As part of the standard protocol for greeting President Trump on the tarmac in Cleveland, I took a COVID test. I've tested positive. I have no symptoms at the moment. I am following the protocol and will quarantine at home for the next 14 days.
– Mike DeWine (@MikeDeWine) August 6, 2020
The President took the stage at the Whirlpool facility to the sound of Lee Greenwood's "God Bless the USA," after hearing glowing remarks about the US-made equipment that the Sandusky County Whirlpool facility produces every four seconds.
"It's a great honor to be here. I am thrilled to be in the great state of Ohio. You were good to me, but I was good to you, "he said. "Every single (device) in Whirlpool is labeled 'Made in the USA'."
He said after touring the plant and seeing the "beautiful" machines the plant makes, he said
"Today I want to set out my vision to bring millions and millions more jobs to America," said Trump. Then he started a list of things he said he had accomplished since 2016.
Trump was thinking about his tariff plan, which helped save the Whirlpool plant, he said. In January 2018, Trump upheld a 50 percent tariff on Samsung and LG for their role in making washing machines outside of the United States and "dumped" them into the US market at below market value.
LIVE: President @realDonaldTrump makes remarks at Whirlpool Corporation's manufacturing facility https://t.co/2vC0EyoqoK
– The White House (@WhiteHouse) August 6, 2020
He put the previous problems at the factory at the feet of the Obama-Biden administration and said calls to return US manufacturing had fallen on deaf ears.
"On the issue of foreign trade, we have been guided by a shameful policy of surrender," he said, saying that other nations had "looted" America's crown jewels.
The president also addressed his 2016 promise to build a bigger wall between the United States and Mexico, saying, "It will be built, I promise."
Trump also said he was keeping his promises to American workers, saying he was fighting "for Main Street, not Wall Street," and addressed the end of the North American Free Trade Agreement and the new US-Mexico-Canada trade deal.
"I want to make sure these companies don't go," Trump said, "and the managers woke up and said, 'I'm sorry.'"
"In 2016 I made many promises to American workers. I've held every single one of them.
NEW PROMISES
The president then outlined six more promises he would make to US workers.
1. He vowed to defeat the coronavirus and said a vaccine against COVID-19 would come "sooner than people think".
2. He vowed professional prosperity and economic resilience after the virus was defeated. "We will have many, many, very, very successful years, as long as someone doesn't come and destroy it by doubling, tripling, quadrupling your taxes and something else – regulations. It will be over, it will be the time of the Depression", he said .
3. He vowed to make America the world's leading manufacturer of medical devices. "We cannot rely on China and other nations (for medical staples) one day denying us products."
4. He promised to land millions of new manufacturing jobs in other sectors. "We will never forget your washing machines or dryers," he said. Trump then told a story about signing a regulation that gave dishwashers "a lot more water" and said some people told him they had to "press the button five times" because the machines had chokes to do that Limit water.
5. He vowed to "bring back American jobs by using every tool at my disposal".
6. He vowed to always put American workers first.
Trump at the Clyde plant was joined by Lt. Gov. Jon Husted, US Representatives Jim Jordan and Bob Latta, Senator Larry Obhof, Clyde Mayor Scott Black, and others.
WHY CLYDE?
The president chose Clyde as his station, a White House official said to demonstrate how Trump "continues to put American jobs first". In 2018, Trump maintained an import duty on large household washing machines, a product manufactured by Whirlpool in Clyde.
RELATED: Trump Will Be First President To Visit Sandusky County In Over 100 Years
RELATED: Senator Sherrod Brown applauds President Trump's washing machine tariffs.
Whirlpool said the tariff created 200 new jobs at the Clyde plant. The Clyde plant is the world's largest manufacturer of washing machines, employing around 3,000 in a town of around 6,000 people.
PHOTOS | Trump in Ohio: Clyde turns out to greet President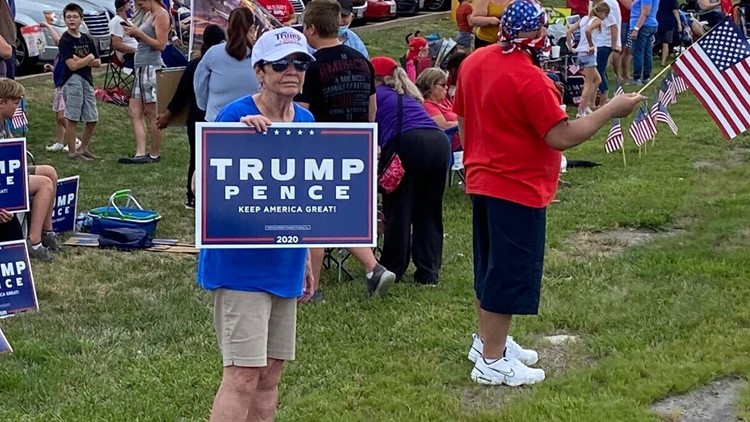 Trump then returns to Cleveland for an evening fundraiser at the exclusive Shoreby Club on the water in Brahtenal. This event is a joint fundraiser for Trump's re-election campaign and the Republican National Committee. Tickets cost at least $ 5,600. Guests who contribute $ 100,000 have exclusive access to the President and other GOP officials.
PRESIDENT TRUMP IN CLYDE, OHIO: The President will tour the hot tub facility at 2:45 pm today. Michelle Backus explains what you need to know before he visits.
Posted by WTOL NEWS 11 on Thursday 6th Aug 2020