Here are the officially scheduled events for the Solheim Cup for Saturday September 4th.
TOLEDO, Ohio – The best golfers from the United States and Europe will renew their rivalry in the Solheim Cup, which kicks off at the Inverness Club in Toledo on Saturday.
The three-day women's competition takes place in odd years and alternates between locations in the US and Europe. Here is the list of official day-to-day events:
TODAY SOLHEIM CUP EVENTS
Saturday 4th September
6 o'clock in the morning – Gates open in Inverness
Four-man matches in the morning
Four-man matches in the afternoon
Team USA and Team Europe player profiles
17 o'clock – Gates close in Inverness
17 o'clock – Fan Fest Presented by ProMedica, in the Promenade Park
6:15 – Promenade Park stage, singer-songwriter Eric Sowers
8:30 p.m. – Country music star Chris Young will perform on the main stage and the show will be streamed live throughout the event area
Day two of Fan Fest features live streaming video walls throughout Promenade Park, bespoke menus from popular Toledo food trucks, and a variety of bars including a champagne and wine lounge.
The Fan Fest is a cashless event, i.e. credit / debit cards for transactions only. If you bring cash, you can convert your cash to a card at a reverse ATM.
Participants are encouraged not to bring any bags with them. However, there is a clear baggage policy. An exception applies to medically necessary items after they have been properly inspected at a gate provided for this purpose.
The less you bring with you, the easier it is to go through security.
PARKING IN DOWNTOWN
Parking spaces are available throughout the city center. You can drive and park in any downtown garage or parking lot, except Summit Street Garage (21 N Summit St.) and The Depot Parking Garage (202 N Summit St.). More than 25 above-ground parking spaces and eight easily accessible parking garages are available for the Fanfest.
If you'd rather take a shuttle, there is a Park N Ride option. From 1.30 p.m., shuttles from the Red Lot (Great Eastern) and Blue Lot (Hollywood Casino) will run to the event every 15 minutes. The last shuttle to leave downtown will be at midnight.
You can also take a ride from Black & White Taxi. You can even reserve your ride in advance. The taxi and ridesharing areas are located on Huron Street.
TARTA carries out normal operations. All rides are free. Find the route that works best for you based on your location. For example, you can park in Franklin Park Mall and take the 19 or 20F bus to get to the center of downtown. Remember, this is a normal route, not an express shuttle. There may be stops along the way.
SOLHEIM CUP FIRST ALARM FORECAST
PHOTOS | Solheim Cup 2021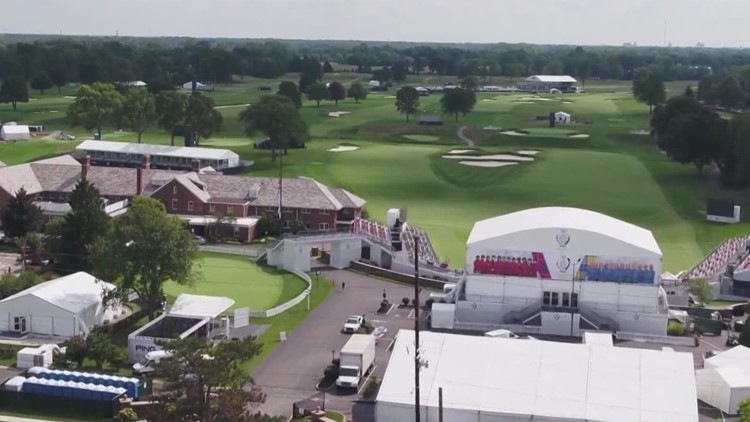 RELATED: Several road closures in Toledo begin Tuesday for Solheim Cup events
RELATED: Solheim Cup 2021 Guide: Tickets, Parking, and Everything Else You Need to Know
RELATED: Masks are required at Solheim Cup Fan Fest concerts, Women's Summit, shuttle buses