BROOKVILLE, Ohio – Wilbur Meyer, a soybean farmer and owner of DEM Farm Holdings in Brookville, Ohio, is no stranger to putting new computer technology and farm equipment to the test.
In April Meyer had the idea of ​​planting grain in the form of a mural with two large messages – a tribute to the fallen first aiders and victims of September 11, 2001.
What you need to know
This year marks the 20th anniversary since the September 11, 2001 attacks
Nearly 3,000 people died between the attacks in New York City, Washington DC and Shanksville, Pennsylvania.
Farmer Wilbur Meyer planted grain in April in order to eventually grow into great messages as a tribute to the fallen
One part of the mural spells out "God Bless America" ​​while the other shows "Never Forget, 2001-2021" with the American flag behind the words.
Plants spell "Never Forget" over the farmland.
"As a first aider in the past, this is a worthy homage to everyone," says Meyer. "This is our largest field so far. It's a 270 acre field and the mural is 3,500 feet high and 2,800 feet wide. "
On one such extensive project, Meyer brought in friends Grant Davis and Dave Kress to help out with everything from design to corn variety. It's a complicated process with little margin for error.
"These plants change. I mean, you look behind me in the corner here and it's all a hybrid and you're going to see yellow corn plants, dark green corn plants and we're trying to do something that no one really has ever done because those claws are in there crossing one – and fold out, so if he plants five miles an hour one way and comes back, say … just say four and a half, you will see that variation in this picture in the field. said Farmer Kress.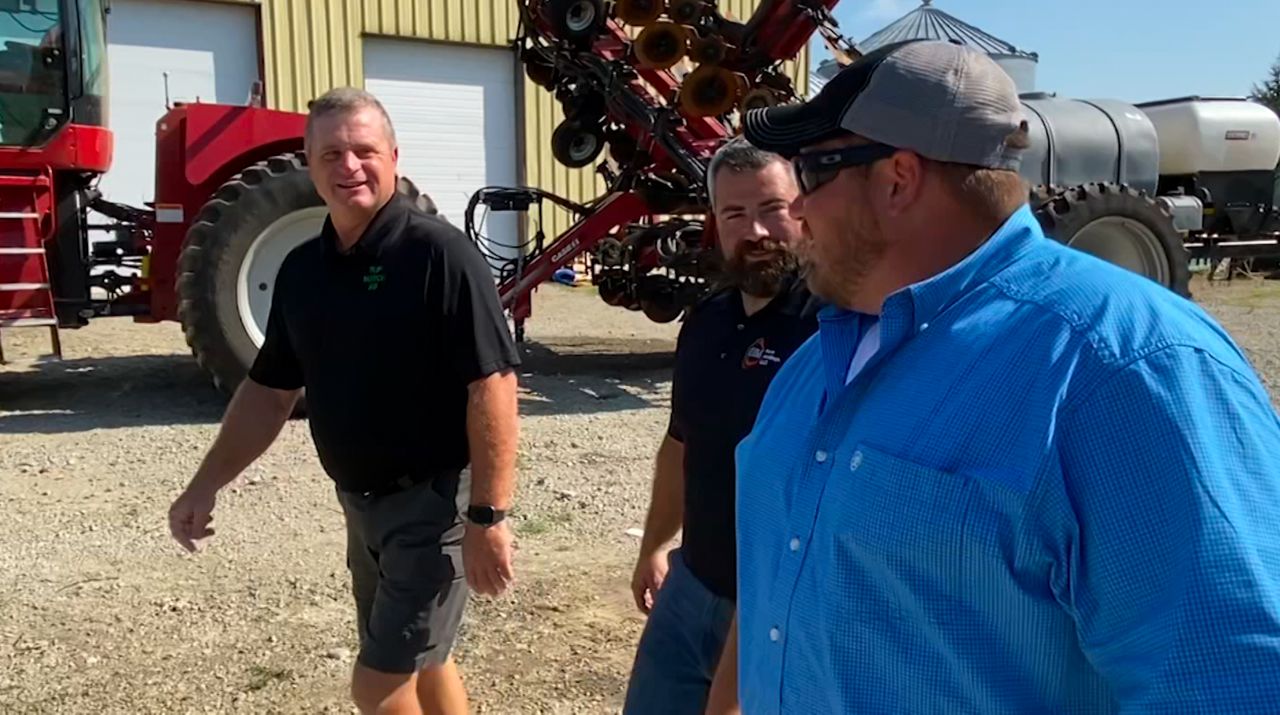 It will soon be harvest time, but what was planted in April still shines today.
Meyer said for people who see his design from heaven or online via a viral image, he hopes we all remember the sacrifice of our nation's bravest.
"I want them to think about back then, you know what happened after that. The country came together as one nation. Don't forget the people who lost their lives in that tragic accident between the Pentagon, the towers, the flight that crashed in Pennsylvania. Think of all these people, "said Meyer.
This year marks the 20th anniversary of the attacks that killed nearly 3,000 people between New York City, Washington DC and Shanksville, Pennsylvania.